Created by Pop Warner, the Double wing offense has been tearing defenses apart for 100 years now – that's a lot of touchdowns.
But the father of the offense, the man who nurtured it, helped it grow into what it has become today, is Don Markham, who set the national high school scoring record, winning the national championship with a whopping 880 points in 14 games. That's just a shade under 63 points – or nine touchdowns a game!
Double Wing Formation
Much like the wing-T, you're going to line up a center, two guards, and two tackles in this formation – and you're going to add two tight ends, and two wingbacks as well. A perfectly symmetric formation, we bring our halfback up to play as the second wing back, with our full back lined up directly behind the quarterback.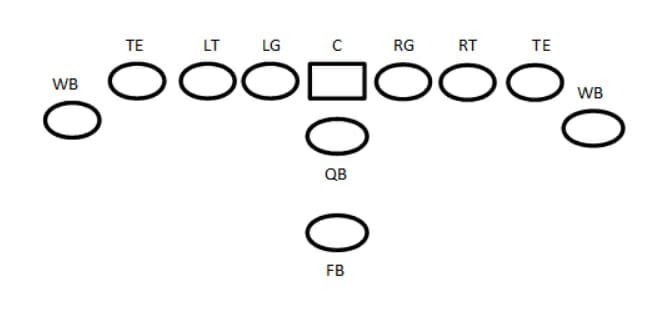 Famous Double Wing Offenses
Late 1960s Notre Dame Fighting Irish
Don Markham's Early 1990s High School Teams
Double Wing Offense Strengths
Power Running
Misdirection
Double Wing Offense Weaknesses
Long Range Passing
Can Be Very Complex
Double Wing Offense Plays
If you're interested in learning more about Double Wing Offense, make sure you check out our Double Wing Playbook. It's packed with 10 simple, fun and effective plays designed for youth and high school football. All explained with player responsibilities, step by step diagrams, and implementation tips for coaches.
Below are some sample plays you can check out.
Running Play: Lose Red 34 Zone Blast
Play Strategy
The difference between a zone blocking scheme and a regular one is that in the zone the offensive line moves in complete cohesion in one direction, not trying to move defenders left or right, but moving in a direction together. The defense will be forced to commit to holes that open up, and a RB with good vision can pick apart the defense for huge gains.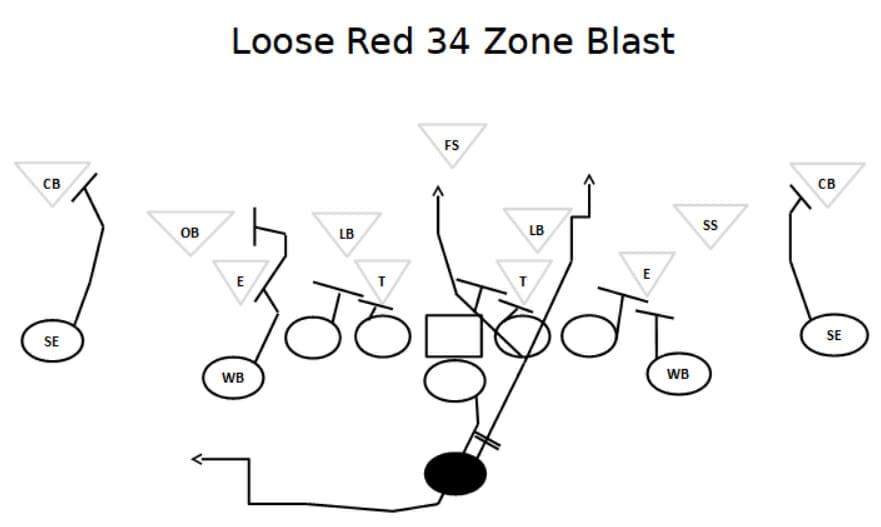 Offensive Line
LT: Blocks DT with LG
LG: Blocks man with LT
C: Blocks DT with RG
RG: Blocks man with C
RT: Blocks DE with RWB
Backs & Receivers
TE: Crackback blocks CB
LWB: Slides inside to cut of DE, moves up to block OB
RWB: Blocks DE with RT
FB: Runs blast right, reads playside LB and either cuts back to 2 hole our stays on the 4 track
QB: Opens to TB, hands off, fakes a waggle left
Coaching Tips
It's important for the line to be strong and physical, knocking defenders back and creating movement downfield and to the right.
The FB needs to keep his eyes up, reading the MLBs as he come up to the LOS, so he can decide which side to makes his cut to.
Passing Play: Blue 76 FB Swing
Play Strategy
This is a good passing play to use on any down, and any situation. The combination of short and long crossing routes are effective for deep or short passing, and against man or zone coverage. While most of the action is happening on the right, I've found the routes on the left are most often open, as the strong side CB is forced to cover both the LWB and FB.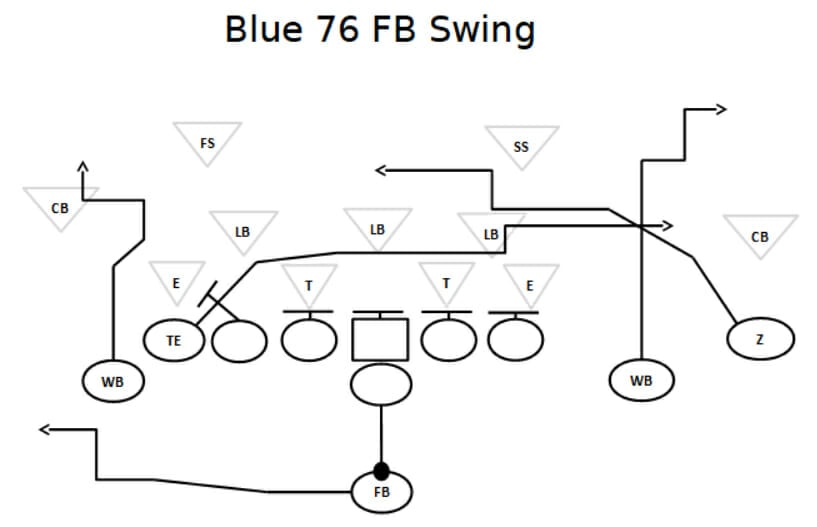 Offensive Line
LT: Pass blocks strong side DE
LG: Pass blocks man
C: If no extra rushers, helps LG or RG
RG: Pass blocks man
RT: Pass blocks man.
Backs & Receivers
TE: Runs a drag over the middle
LWB: Runs a flag route, faking inside first
RWB: Runs a deep flag route
Z: Runs a deep in route
FB: Runs a swing route out left
QB: Takes a 5-step drop, goes through progression
Coaching Tips
The swing route is an adjust of the flat, where the back will run parallel to the LOS out to the side line before turning up field and looking back to the QB for a pass.
The LWB's double move is at it's most effective if the QB understands it's timing, and throws the ball just as the cut back outside is being made.
For more plays like this, check our complete Double Wing Playbook today!
More Football Offenses
Or, if you need help develop fundamental offensive skills, don't miss our drill collections covering quarterbacks, offensive line, running backs and receivers.